The Dawn of Redeeming Grace
15 March 2014
And so it was, that, while they were there, the days were accomplished that she should be delivered. And she brought forth her firstborn son, and wrapped him in swaddling clothes, and laid him in a manger; because there was no room for them in the inn. - Luke 2:6-7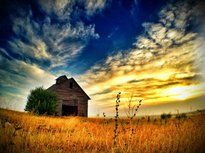 In a little barn, where only His mother and step-father know, we find Jesus, our Redeemer, laying in a feed trough. However, the beauty of such humble beginnings does not mark the start of a path whose end is uncertain.
The course of the sun begins at dawn, marked by the sun creeping up over the horizon.  There is no doubt that the sun will continue on its course, for it is certain. The dawn announces that the day has begun, not might begin.
And so it is with the certainty of redemption. The course of redemption began with the birth of a baby in Bethlehem. And, by the providence of God, His path to redeem His people from their sins is certain as well.
The birth of Jesus marks not the possibility of redeeming grace but the dawn of redeeming grace.