Doves and Pigeons
24 March 2014
And when eight days were accomplished for the circumcising of the child, his name was called JESUS, which was so named of the angel before he was conceived in the womb. And when the days of her purification according to the law of Moses were accomplished, they brought him to Jerusalem, to present him to the Lord; (as it is written in the law of the Lord, Every male that openeth the womb shall be called holy to the Lord;) and to offer a sacrifice according to that which is said in the law of the Lord, A pair of turtledoves, or two young pigeons. - Luke 2:21-24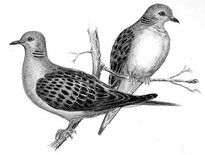 Jesus is now 40 days old. Mary and Joseph go to the temple to dedicate Mary's first-born son to God as the law requires. We are going to see some truly remarkable things happen in the temple, but I want to point out two small details in this passage that can be easily overlooked.
First of all, many modern revisions of the Bible read differently than the King James Translation in this area. The phrase will read something like this, "when the days of their purification were accomplished." I think we have a true reading in the King James because Jesus needed no purification. He was the Holy Son of God in all eternity, and He was conceived in Mary as the Holy Son by the Holy Ghost.
Secondly, we should look back at the law details of this sacrifice in Leviticus 12 or we will miss an extremely important detail.
And when the days of her purifying are fulfilled, for a son, or for a daughter, she shall bring a lamb of the first year for a burnt offering, and a young pigeon, or a turtledove, for a sin offering, unto the door of the tabernacle of the congregation, unto the priest: who shall offer it before the Lord, and make an atonement for her; and she shall be cleansed from the issue of her blood. This is the law for her that hath born a male or a female. And if she be not able to bring a lamb, then she shall bring two turtles, or two young pigeons; the one for the burnt offering, and the other for a sin offering: and the priest shall make an atonement for her, and she shall be clean. - Leviticus 12:6-8
Mary brought two birds with her. This means that she was so poor that she could not afford to bring a lamb for the burnt offering. Our Savior was born into a very poor family.
We find throughout His ministry that Jesus slept in the fields or where He was invited.  When others would go home, He would go to the Mount of Olives. Yes, He no doubt had a time of fellowship with the Father there, but it still points to the fact that he was homeless.
Even when He had set His face toward Jerusalem, the people of Samaria would not give Him a place to sleep.
Our focus should not be on earthy possession or comfort. These things are temporary. We especially should not approach our worship of a Sovereign God with the idea that we will gain some material blessing we seek.  True religion is not a scheme to claim the riches of this world.
True religion and its purpose are these:
Pure religion and undefiled before God and the Father is this, To visit the fatherless and widows in their affliction,and to keep himself unspotted from the world. - James 1:27

 Jesus said unto him, Thou shalt love the Lord thy God with all thy heart, and with all thy soul, and with all thy mind. This is the first and great commandment. 39 And the second is like unto it, Thou shalt love thy neighbour as thyself. On these two commandments hang all the law and the prophets. - Matthew 22:37-40
Mary and Joseph did not allow their poverty to prevent them from serving the Lord. Neither should we allow our abundant riches here in America to distract us from pure religion.