A Conversation With Jesus
10 November 2015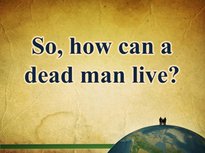 "But when he saw Jesus afar off, he ran and worshipped him, and cried with a loud voice, and said, What have I to do with thee, Jesus, thou Son of the most high God? I adjure thee by God, that thou torment me not. For he said unto him, Come out of the man, thou unclean spirit.And he asked him, What is thy name? And he answered, saying, My name is Legion: for we are many. And he besought him much that he would not send them away out of the country. Now there was there nigh unto the mountains a great herd of swine feeding. And all the devils besought him, saying, Send us into the swine, that we may enter into them. And forthwith Jesus gave them leave. And the unclean spirits went out, and entered into the swine: and the herd ran violently down a steep place into the sea, (they were about two thousand;) and were choked in the sea. And they that fed the swine fled, and told it in the city, and in the country. And they went out to see what it was that was done." (Mark 5:6-14)
The most amazing thing that I see in this account is that the man is passive in everything. The devils are controlling him. He can do nothing to stop them. When Jesus removes the devils, Jesus does all the talking and it is a conversation with the devils not the man. No man could help the Gadarene, neither could he help himself. The man does not ask to be saved. In fact, he doesn't speak at all!

And so it is with our regeneration or new birth. It is not a cooperative effort between God and the believer that causes us to be born again. Neither is an effort of God aided by the preacher to bring a man to spiritual life.

The scriptures abound with proof that God works alone in regeneration without the aid, permission, or use of the means of men. Here are just a few:
"The wind bloweth where it listeth, and thou hearest the sound thereof, but canst not tell whence it cometh, and whither it goeth: so is every one that is born of the Spirit."(john 3:8)
Even the example of birth teaches us of the sovereign work of God. We were not in control of our natural conception, neither do we control our spiritual one.
"And you hath he quickened, who were dead in trespasses and sins;"(Ephesians 2:1)
"Verily, verily, I say unto you, The hour is coming, and now is, when the dead shall hear the voice of the Son of God: and they that hear shall live." (John 5:25)
Both of these scriptures refer to man in his nature as spiritually dead, not just sick. A dead person cannot cooperate, assist, or have will.
"who hath delivered us from the power of darkness, and hath translated us into the kingdom of his dear Son:"(Colossians 1:13)
"No man can come to me, except the Father which hath sent me draw him: and I will raise him up at the last day." (John 6:44)
When Jesus speaks, we are changed.