Let Us Pass Over
2 November 2015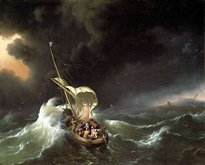 "And the same day, when the even was come, he saith unto them, Let us pass over unto the other side. And when they had sent away the multitude, they took him even as he was in the ship. And there were also with him other little ships. And there arose a great storm of wind, and the waves beat into the ship, so that it was now full. And he was in the hinder part of the ship, asleep on a pillow: and they awake him, and say unto him, Master, carest thou not that we perish? And he arose, and rebuked the wind, and said unto the sea, Peace, be still. And the wind ceased, and there was a great calm. And he said unto them, Why are ye so fearful? how is it that ye have no faith? And they feared exceedingly, and said one to another, What manner of man is this, that even the wind and the sea obey him?" (Mark 4:35-41)
"Let us pass over unto the other side."

Who spoke these words? Was it a mere mortal man that had a hope that he and his friends would make it to the other side of the sea? Was it a man who would soon be surprised and shaken that a horrible storm would fill their ship with the water of the sea? Was it a man who carelessly led his friends into danger? Was it a man given to fear or worry? Was it a man who expected his friends to overcome the danger who knew was ahead?

No. It was none of these.

It was Jesus, the Son of God.

Jesus did not have a simple wish that they would make it to the other side of the sea. Neither did He ever think there was a possibility they would not make it. He had a purpose and nothing was going to stop Him.

Jesus was not surprised by the storm. He knew that it would come, but He did not decree it. He rebuked it because it would be contrary to His purpose if the ship had sunk. It was not "working together" for their good.

Jesus was not worried about the storm or His friends abilities to combat it. He did rebuke them for not having faith in Him but He still calmed the storm. He did not rely on their faith or actions to persevere in order for them to make it.

The reason they made it to the other side is because Jesus said they were going to make it. When He declared, "let us pass over," it was not a wish or desire. It was a decree that they would pass over. And no storm or doubt on their part would prevent it. It was not going to be necessary for them to have faith to make it. In fact, Jesus even points out that they didn't. No. Their security and safety was entirely in the providence and care of the omnipotent Son of God.

They were saved, not by their faith, but by the power of Jesus Christ.

And so it is with our eternal salvation. God has declared by His royal decree that we will be with Him in glory. Therefore, we will be with Him in glory. Not because we had faith in Him to do it. Not because we persevered and overcame. Not because we had any work or will that made His decree effectual in our lives. We will be saved because God said it and made the necessary provisions to bring it about.


"And we know that all things work together for good to them that love God, to them who are the called according to his purpose. For whom he did foreknow, he also did predestinate to be conformed to the image of his Son, that he might be the firstborn among many brethren. Moreover whom he did predestinate, them he also called: and whom he called, them he also justified: and whom he justified, them he also glorified." (Romans 8:28-30)