Jesus Is The Everlasting Father
29 December 2013
For unto us a child is born, unto us a son is given: and the government shall be upon his shoulder: and his name shall be called Wonderful, Counsellor, The mighty God, The everlasting Father, The Prince of Peace. - Isaiah 9:6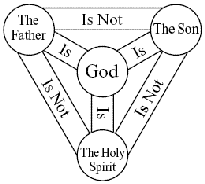 Even though the word itself never actually appears in Scripture, the doctrine of the Trinity can be found throughout its pages. The mystery of the 3-in-1 Godhead is exactly that, as mystery. At least it still is to me. I know there are several aspects of this relationship described to us in God's word, but to think that a human mind can truly grasp the full concept I think is quite arrogant.
We know that the Bible describes all three persons that make up the Godhead, that they are distinct, yet there are one.
This title given to the coming Savior by Isaiah is not saying that Jesus is two parts of the Trinity. Isaiah is telling us that Jesus IS God Himself. The Redeemer is not just a prophet or rabbi. He is not just another good example to follow. Jesus is the eternally begotten Son of the Eternal Father.
Jesus teaches us about this unity when He said:
I and my Father are one. - John 10:30
The context of this teaching fulfills what Isaiah prophesies about the coming Redeemer: He will redeem, and no one can stop Him or reverse the work that He will do. Why? Because Jesus is God!
What comfort we can take in knowing that, even though the King came to this earth born lowly and poor, He never laid down His identity as the Son of God. He was one with the Father in eternity. He was one with the Father at His birth. There was never any doubt that Jesus would complete what He came to earth to do. We can rejoice along with Simeon in seeing the complete and finished work in the young baby:
Then took he him up in his arms, and blessed God, and said, Lord, now lettest thou thy servant depart in peace, according to thy word: For mine eyes have seen thy salvation, Which thou hast prepared before the face of all people; A light to lighten the Gentiles, and the glory of thy people Israel. - Luke 2:28-32
From the very birth of the Savior, we can shout "it is finished!"